My post of Southern negatives nearly made Kris weep with despair. Nearly. And I even forgot a few things, like how the roads can get so thick with frogs or turtles that it is impossible to drive without becoming a murderess and you just have to grit your teeth and bawl your little head off because you have to get to where you are going (still very much traumatized by that one!). Forget it. Let's just take a peep at the bright side, shall we? It's pretty dang glorious!
SPANISH MOSS. There is simply nothing in this world more simultaneously haunting, magical and romantic than silvery skeins of Spanish moss dripping from the tips of a live oak. Poetry made flesh.
LET'S BE BEST FRIENDS AND TELL EACH OTHER EVERYTHING
, says the behavior of your bus driver, the lady in the checkout line, the man at the library, the cop who pulled you over for speeding. And (here's the best part):
I'll do all of the talking, if you want me to!
Seriously, the South is an introvert's paradise. All that's required is a friendly smile, a few "oh no he didn'ts," maybe a "mercy!" or two, and you've found your new bestie for life, regardless of whether or not you ever see each other again. Perfection.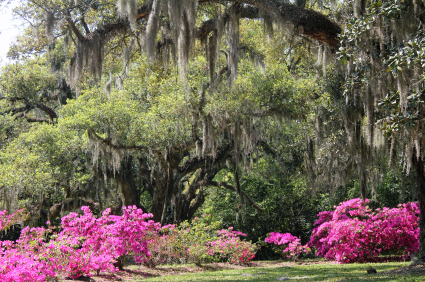 FI'IN' 'A'. Along with it's semi-formal variant "fittin' ta" and the formal "fixing to", this is just one of the many gems of Southernese. I don't know what it is, but I absolutely adore the strange and wondrous things Southern dialects do to the English language. I guess I just love the chance to let my English teacher hair down and gleefully murder the rules once in a while.
THE WORLD IS ABLOOM. So the South has a few smells you don't necessarily want to inhale. Things like roadkilled opossum, paper factories (the absolute worst), and garbage that's dumped willy-nilly. I think that's why God gave it a corresponding number of to-die-for perfumes. There is simply nothing sweeter than taking a deep inspiration of gardenia, jasmine or magnolia, and on any given spring day you can often find all three. Plus about a bajillionty other flowering plants and trees that I don't know the names of. Welcome to the subtropics!
RAIN. You know what they say: When it rains, it pours. As Wendy noted, this one could have made my previous list due to the accompanying and totally terrifying lightning. I've included it here nonetheless because I am a daughter of drought. A ranch in the West is so dependent on such miniscule quantities of rain (the difference between breaking even and total ruin) that I possess an inherent and physical need for precipitation. I literally become ill when too many days pass without rain. Because of my Western calibration for appropriate rainfall, that NEVER happens to me in the South. Ah, relief!
BBQ, SEAFOOD BOIL, BANANA PUDDIN', OKRA, GUMBO, COLLARDS, GRITS, PRALINES, ETC. ET AL. I do not expect these three years to treat my waist kindly. Bring it on!
HUMIDITY. I know, I know, you now think I've totally LOST IT and forgotten all about the perpetual shower mold and stale food. But in the balance, I really like humidity (remind me of this fact when we arrive at our new home in
July
). Dry skin and cracked lips? Kiss them goodbye! Dryer sheets? Who needs them! Hair straightener? Obsolete! (which makes my vanity cry and my laziness whoop for joy...actually, come to think of it, either way may not be good for the content of my character...).
THE GOOD LORD WILLIN' AN' THE CREEK DON' RISE. I get the biggest kick out of collecting idioms and the South is a veritable treasure trove of unique and colorful sayings. I'm sure Louisiana has a few that are all her own, and I can't wait!
BERRIES. Blue, black, rasp, straw, whatever. I've already located the pick-your-own farms in our area and plan on a bountiful jam season...if I don't just eat them all first.
Y'ALL HAVE A BLESSED DAY. Forget how our Louisiana realtor looked like I'd revealed myself as Satan when I told her that we are LDS. And let go of the fact that a few parents will probably forbid their kids from playing with ours...Overall I love the religious fervor you find in the Bible Belt. This is a place where people still believe that God is omnipotent and omnipresent, and they are not at all shy about saying so. I like that.
Ok, so am I forgiven? Perhaps not by the snake experts, but by the rest of you? We completed our house hunting trip a little over a week ago and are more excited than ever to get ourselves down to God's country! :)